Alloy Wheel Refurbishment & Repairs
We repair and refurbish all types of alloy wheels at our workshop based Hanham, Bristol.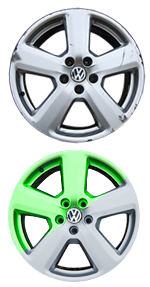 Kerb Damage
Kerb damaged wheels are repaired to the highest standards, in most cases these repairs are almost invisible.
Alloy Corrosion
Corroded alloys wheels spoil the appearance of your vehicle. We remove the corrosion and repaint / refinish the wheel to restore it back to it's original appearance.

Alloy Wheel Colours
After carrying out any repairs dmd Wheel Refurbishment Bristol refinish your alloys to their original colour, or colour of your choice (most manufacturers colours available) bringing your wheels back to their full lustre condition.
Guarantee
All alloy wheel repairs carried out by dmd Wheel Refurbishment Ltd (carry a full 1 year guarantee).

Alloy wheel Diamond Cutting Specialists
Is a specialist precision method, which applies the finest finish to your alloy wheels. The process involves removal of contaminants such as, brake dust, grit, and tar prior to any repairs that are necessary. Our technicians can then determine what repairs are required. The wheels are then precision cut producing a gleaming finish.
A scratch proof lacquer is applied to the wheel and then baked in a curing oven. On completion, the refurbished wheels are thoroughly checked to ensure a high standard of finish. We refit, inflate and re-balance the tyres to their correct pressures.
There are many options available to customise your alloy wheels. We are here to discuss any ideas you may have.